The phone call had come while I was lacing up my bowling shoes for league night.

"I just thought I'd tell you," she said, "I just found out that I'm pregnant. And when I told your brother, he just stood there with this big goofy grin on his face while I called him an asshole." She laughed. "We're not really telling anybody outside of family yet, but I just wanted to make sure to let you know before your mom and dad called you and were like, 'DID YOU KNOW THAT KEITH AND ANGIE ARE GOING TO HAVE A BAY-BEE?!?!"

"Wow..." I stammered. "Wow. Congratulations, you guys, this...this is awesome."

"We weren't going to get married until this time next year," she tells me, "but we figured that with the baby on the way and Keith leaving for boot camp soon that we'd go ahead and just go over to the Hitching Post or something like that, and then do something big this summer. Are you going to be able to come up in June for the wedding?"

I wouldn't have missed it for the whole world.

I flew up for the wedding in June with a load of baby gifts and a blue, yellow and light green crocheted blanket for the baby. It was a boy, they'd informed my husband and I over the phone one night. Christopher William. After Angie's dad, who'd died during a parachute freefall and my and Keith's uncle, who'd died of a heart attack in the summer of '02.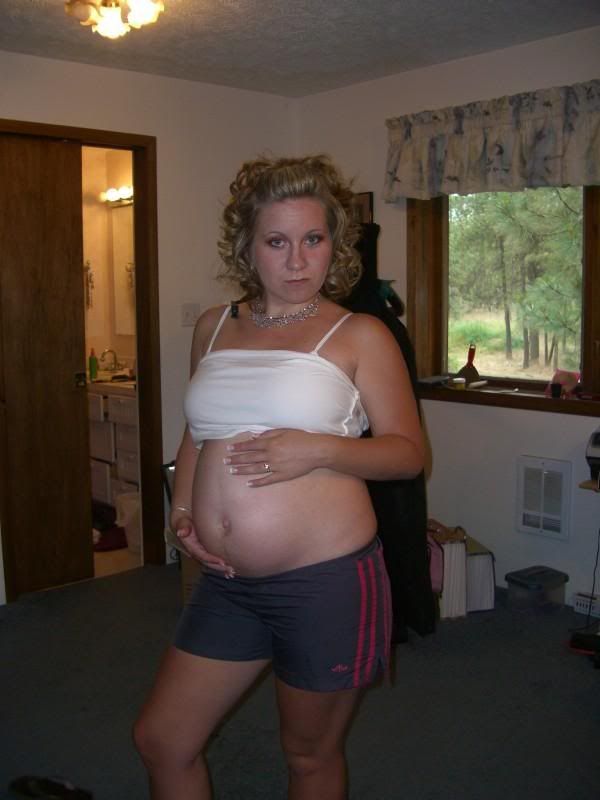 Angie on her wedding day, Christopher in utero.



I waited all day October 17th for the phone call.

I marked the date on my calendar with a big red circle.

Today was the day.

During my lunch break, I called my mother.

"Not yet," she answered, "but it shouldn't be long."

"Let me know when you find out more," I tell her. "I am so excited that I can barely stand it."

"I know!" Mom answered. "So are the rest of us, but just hang in there and wait it out."

And as we all know, and as the song tells us, the waiting is the hardest part.

I answered questions for my customers about appliance delivery and if we had any dryers that ran off of 110 as opposed to 220. I extolled the virtues of our extended warranty, pushed installations on gas dryers, ranges and wall ovens, was charmed by sweet Southern ladies who referred to me as "darlin'" or "dear", and flirted with the older men who asked me if I was as cute as I sounded on the phone.

2:00.

3:00.

4:00.

At 4:11, I felt it.

That vibration in my pocket.

My phone was ringing!

It was time.

He was here!

It was time for my break. Quickly I dashed off the call floor and checked my messages. And when I heard my dad's familiar deep voice, I drank up the words.

"Well, honey, you're an aunt," Dad tells me. "Your nephew was just born at 4:08 PM today weighing 8 lbs, 4 ounces with a head full of red hair."

New picture/text message, I see flashing across my screen.

Click!

I open it and there's my exhausted looking sister-in-law with her new son, my brother leaning in over her, smiling. A blue-wrapped bundle with a head full of red hair is cradled in her arms.

Christopher William Schmidt.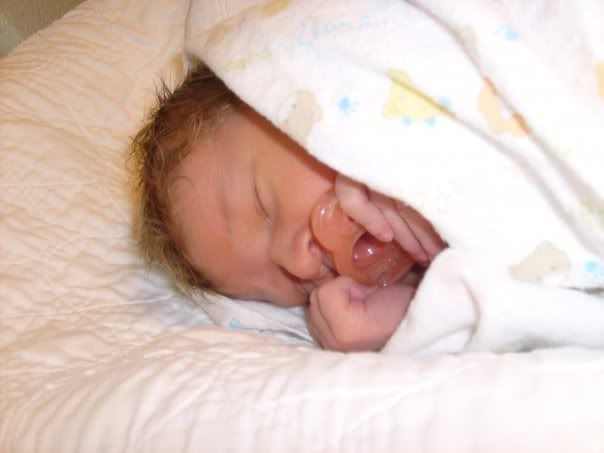 Only a few hours old.



I became one of Those Aunts. The type that have photos of the baby on their cell phone since we don't carry around brag books anymore. I became one of those people who, when talking to one of my customers at work and hearing a baby in the background, would ask how old the baby is and say, "Oh, my nephew is only a few months/days/weeks older than that! What a fun age that is."

I'd call my parents while they were babysitting and spend more time talking to the baby than I would talking to them.

"Hello, Chris," I'd coo, "this is Aunt Corrie and I love you VERY VERY MUCH. And when Uncle Mikey and I get to meet you for the first time we're going to give you lots and lots of kisses and hugs because you're our favorite nephew. Yes you are!"

"Hi, Chris!" my husband would squeak, doing a startingly good Elmo impression. "It's Elmo!"

"He's just looking at the phone with a weird look on his face," my mother would reply.

"Nah, he's pooping!" my dad would retort. "Thanks, Mike, you made him poop!"

We planned a vacation to Washington in July of '09. Part of it was because we needed the rest and relaxation after the terrifying car accident that had happened a month earlier, but the rest of it was because we were ready to meet the baby. The family's little prince, the firstborn grandson, the adorable little guy who could entertain himself as long as you remembered to feed him, change his diaper and take a look at him every once in a while.

And we were ready to meet him.

When my sister-in-law called the morning after we got in and said she was bringing the baby over, I was armed to the teeth with my camera and Aunt Corrie hugs. I certainly can't say that my husband wasn't ready to hand out Uncle Mike hugs and welcome his new best buddy to the family.

The moment I had been waiting nearly a year for was finally here. I looked into that round little face, drank in those big blue eyes, that unruly head of bright red hair. That devious little face. I was in love.



Aunt Corrie and Christopher, July 18th, 2009.



It took me almost a year to get to finally meet him in person, but it was truly every bit as wonderful and magical as I had hoped it would be.

And I can't lie...I never believed in love at first sight until the moment I met my nephew face to face for the first time.